Muslim marriage contracts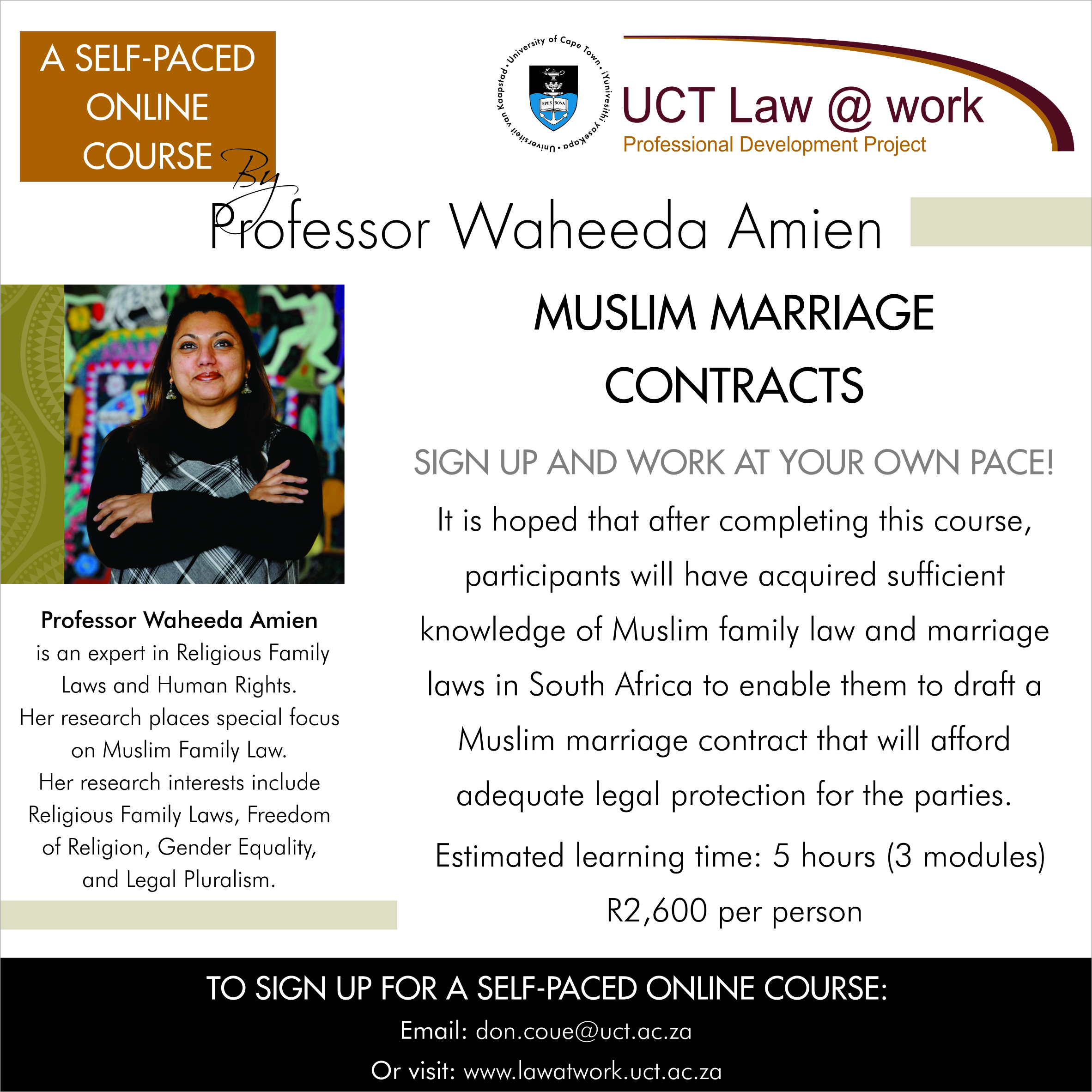 In South Africa, religious marriages are in the main not legally recognised. Although the Constitutional Court recently found that the non-recognition of Muslim marriages is unconstitutional, Muslim marriages still need to be regulated by legislation.
Pending legislative regulation of Muslim marriages, it is important for parties to enter into legally enforceable Muslim marriage contracts to regulate their religious marriages.
It is hoped that after completing this course, participants will have acquired sufficient knowledge of Muslim family law and marriage laws in South Africa to enable them to draft a Muslim marriage contract that will afford adequate legal protection for the parties.
Sign up at any time and work at your own pace to learn more about the legal aspects of Muslim marriage contracts!
Course objectives
When you have completed this course, you should be able to:
Describe the historical context of Muslim and other religious marriage laws
Describe why Muslim and other religious marriages need to be legally recognised
Understand some of the features of a Muslim marriage that should be regulated in a contract
Identify the clauses that can be incorporated into a Muslim marriage contract
Course outline
This course consists of three modules:
Introduction to Muslim marriages in South Africa
Legal aspects of Muslim marriages in South Africa
Muslim marriage contracts
Presenter
Professor Waheeda Amien is an expert in Religious Family Laws and Human Rights. Her research places special focus on Muslim Family Law. She teaches undergraduate and postgraduate students in UCT's Faculty of Law and supervises several PhD theses. Her research interests include Religious Family Laws, Freedom of Religion, Gender Equality, and Legal Pluralism.
When?
The course is self-paced, so you can register at any time and work through the material at your own schedule. The course has an estimated learning time of five hours.
Your access to the course will be valid for 12 months after you have paid for your registration, so you have 12 months in which to complete the course.
How much?
R2,600 per participant
Certificate
A certificate of participation from UCT will be awarded to students who complete the course.
How to sign up
Complete and submit the registration form. You will then be given the payment information. 
Download the course brochure for more information.