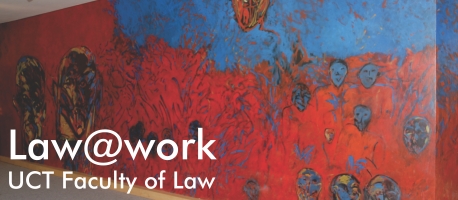 How does the law seek to stimulate and regulate creative expression?
CopyrightX:UCT is a member of the CopyrightX Community, a network of affiliated courses offered by several universities and other institutions during the first semester of each year. Through a combination of pre-recorded lectures, weekly seminars, live webcasts, and online discussions, participants in the course examine and assess the developing laws around copyright issues. CopyrightX was developed by Professor William Fisher at Harvard Law School; it is hosted and supported by the HarvardX distance-learning initiative, and the Berkman Klein Center for Internet and Society. A list of participating organisations and additional information concerning this educational initiative is available at ipxcourses.org.
CopyrightX:UCT consists of the Harvard pre-recorded lectures, accompanied by reading materials relating to U.S. and South African copyright law. Weekly online seminars will discuss the pre-recorded lectures and will more closely analyse South African Copyright law and the issues faced. Particular attention will be drawn to the development side of copyright and the ongoing copyright law revision process. For more information, visit the UCT IP Unit's website.
Join us for this free weekly course which is more relevant than ever in light of South Africa's changing copyright law landscape.
When?
This course is not currently scheduled.
Check out our Course Overview page to see all our current courses. Or join our mailing list to stay up to date with newly-scheduled courses.
Course outline
Topic 1: The foundations of copyright law and fairness and personality theory
The system of multilateral treaties
Originality
The idea/expression distinction
Fairness theory
Personality theory
Topic 2: The subject matter of copyright
Literary works, musical works, artistic works, cinematograph films, sound recordings, broadcasts, programme-carrying signals, published editions, computer programs, and fictional characters
Topic 3: Authorship and welfare theory
Sole and joint authorship
Works for hire
The utilitarian framework
The incentive theory of copyright
Topic 4: The mechanics of copyright
The decline of formalities
Duration of copyright
Protective provisions
Topic 5: Economic and moral rights
The right of reproduction
The right of modification
The right of distribution
The right of public performances
The right of paternity
The right of attribution
Topic 6: Copyright exceptions and limitations
Fair use
Fair dealing
Enumerated permitted uses
Topic 7: Copyright infringement and cultural theory
Primary and secondary liability
Dual-use technologies
Technological protection measures
Premises, implications, and supplements and concerns
The cultural theory
Topic 8: Remedies and copyright, innovation and development
Equitable relief
Damages
Criminal penalties
African copyright and access to knowledge (ACA2K)
Open African Innovation Research (Open A.I.R.)
Who will benefit from this course?
Anyone concerned or faced with copyright law. In particular librarians, artists, publishers, law students, or anyone with a keen interest for copyright law.
Presenter
Dr. Tobias Schonwetter is the Director of the Intellectual Property (IP) Unit (www.ip-unit.org) and an Associate Professor at the University of Cape Town's law faculty. He is a Principal Investigator for various intellectual property-related research and capacity building projects, including Open AIR (www.openair.africa). Previously, Tobias was a Senior Manager – Technology and Innovation Law – at PwC South Africa as well as the Regional Coordinator for Africa and Legal Lead South Africa for Creative Commons. He also served as an editor for the African Journal of Information and Communication's (AJIC), Thematic Issues on Knowledge Governance, and was a postdoctoral fellow at the University of Cape Town's IP Unit. In 2018-19, Tobias was the acting deputy dean for Internationalisation and Outreach in the law faculty at the University of Cape Town Tobias specialises in and teaches intellectual property and cyberlaw, particularly the relationship between intellectual property, innovation and development. Tobias studied and practised law in Germany and holds PhD and LLM degrees from the University of Cape Town. In 2018, Tobias became an Associate Member of the Centre of Law, Technology and Society at the University of Ottawa, Canada; and in 2019 he joined the Department of Science and Innovation's Open Science Advisory Board. Tobias has written numerous articles on intellectual property law and has spoken at various national and international conferences.
How much?
Attending the course is free of charge!
Certificate
Two types of certificates can be obtained subject to the following requirements:
Attendance
Exam
Fee
CopyrightX certificate from Harvard
Issued to all who pass the Harvard exam
80%
Pass
n/a
Certificate of attendance from UCT
On request
80%
n/a
R850
How to sign up
Applicants must provide a motivation of approximately 400 words stating why they want to participate in CopyrightX:UCT, and how they plan on utilising their knowledge afterwards. Furthermore, applicants must make a commitment to actively participate in the course and attend the weekly online seminars at the University of Cape Town.
Motivations along with a completed registration form must be received by 24 January 2021.
Applicants will be informed approximately one week before the course starts whether they have been successful.
Download the brochure.