PhD Law 2017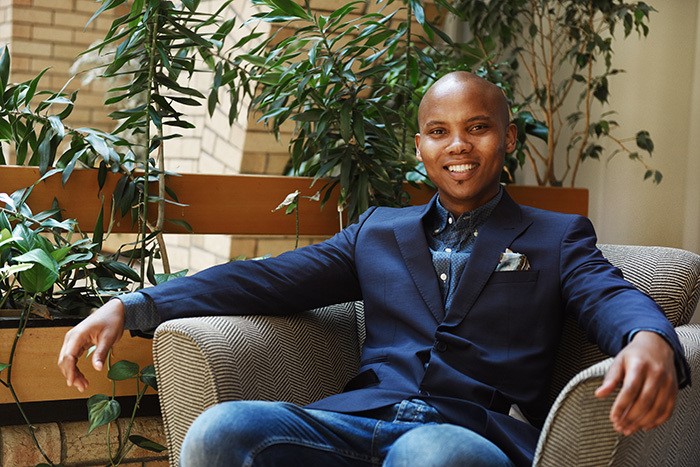 Zolani Buba didn't always know he wanted to study Law. Now, though, as a PhD graduate from the UCT Law Faculty, Dr Buba and the Law seem like long-time friends. Zolani earned his doctoral degree for his thesis which evaluates the rights of interested parties in the statutory business rescue regime currently applicable in South Africa. 
This is no small achievement for Dr Buba. With seven brothers and sisters, and having grown up in Langa in Cape Town, the 32-year old is the first in his family to earn a university degree.  Although he started his tertiary education at then-Pentech (now CPUT) doing a couple of years of multimedia and IT studies, Zolani soon realised his talents and his interests were better suited for strategy development in a boardroom setting. 
Zolani then came to UCT – where he got his BSocSci, majoring in Law, Psychology, and Public Administration.  After completing a postgraduate LLB at the UCT Law Faculty, Zolani pursued an LLM in Tax Law.  In 2013, Zolani registered for his PhD – and has now achieved his doctorate, a "big milestone", and what he sees as "one more step along the way".
Zolani recognises his family, his school teachers and Law professors as playing a key role in encouraging him to pursue his goals. "My teachers always seemed to see things in me that I was not aware of at the time.  I am still growing into the affirmations and encouragement I have been given by my teachers," says Zolani.  Having worked at Pick n Pay all through his studies, to support himself while he lived with his grandmother, Zolani has experienced first-hand the pressures to pay one's way while taking on the rigours of a Law degree. He describes his Law studies as "tenuous and strenuous" and acknowledges that studying Law is tough.
For Zolani, the hardest thing about studying Law at UCT is the potential for isolation.  When asked about his support system while studying, Zolani says he didn't have anything formal in place – but he would strongly recommend a formal system of structured support to undergraduates, to have a mentor and a listening ear, someone to talk about Law with, as a guide to help one make sense of legal theory and practice.
Zolani's advice to Law students is that "ultimately you have a responsibility to deal with your fears. We fear being perceived as inadequate, as lacking – but it doesn't help to wallow.  It also doesn't help to hang out in groups if you all have the same shortcomings.  The one way to succeed is to create synergies with diverse groups of students – because the culture shock can really hit you, and the lifestyle of students with money can make you forget why you are at the university. It is not about being cool. It's about your own goals, your own dreams, about being grounded".  He is clear that there is no formula for success – particularly for young black students without money. It takes grit, he says, and clarity of one's longer-term goals.
With his PhD, Dr Buba will move into consulting around business rescue, tax matters and related corporate issues – and he is building his network in this sector.   Dr Buba will be working to take his PhD forward, to ensure that his proposals for reform - around the current business rescue regime - receive consideration by the legislature and the attention of industry.