Legislative drafting: An introduction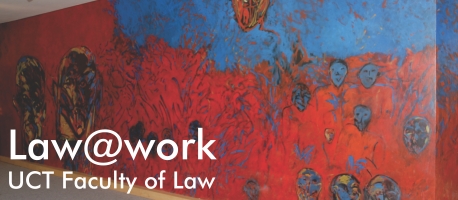 Acquire the basic knowledge and skills necessary to draft legislation efficiently, accurately and in compliance with legal requirements.
This course will give persons in the public sector who are involved in the drafting of legislation (including delegated legislation) the basic theoretical and practical knowledge and skills in respect of the drafting of legislative measures.
The course provides an ideal platform for entering into the advanced course offered by UCT Law@work.
Join us for an eighteen-hour course, held over six days.
When and where?
This course takes places over six days, which are spread over two weeks:
Monday 15 to Wednesday 17 April and Monday 22 to Wednesday 24 April 2024
All days: 8:30 to 12:30 SAST
This course will be held remotely, most likely on Zoom - exact details will be sent to registered participants a few days before the course.
Course outline
Topics that will be covered in this course include:
Legislation, and the constitutional and legal framework
The relationship between law and policy
The work of a legislative drafter
The principles of legislative drafting
Formulation, language and grammar
The structure of a law
Amendments
Delegated legislation
Who will benefit from this course?
The programme is primarily aimed at officials in the national, provincial and local spheres of government and officials in parastatal bodies.
Presenters
Prof Rassie Malherbe is a retired professor of constitutional law from the University of Johannesburg. He has been teaching legislative drafting for over 20 years, for the last few years at the University of Cape Town. During his academic career Prof Malherbe focused his research on constitutional law, education law, and specific human rights such as academic freedom, freedom of religion and education rights. He co-authored several textbooks and published more than 100 articles. He was closely involved in the constitution-making process of the nineties, and still advises government institutions on legislative and other issues.
Adv Anton Meyer SC had a long career in legislative drafting spanning over 40 years. He was a state law adviser in the Department of Justice for many years, and was the deputy chief state law adviser until he became the chief law adviser to parliament when the interim constitution came into effect in 1994. He served in this position until his retirement in 2002. He was the co-presenter with Prof Malherbe of an extra-curricular program in legislative drafting at the University of Johannesburg since its inception in 2002. This programme has since moved to the University of Cape.
Heinrich Muller is a qualified and experienced attorney of the High Court of South Africa and an environmental law specialist. Currently, he serves in the law reform unit at the national Department of Forestry, Fisheries and the Environment, in which capacity he has been the principal drafter of several key pieces of legislation. He has vast practical experience in the drafting of various forms of legislative instruments and managing their progress to final adoption, based on the ability to transform government policies into technically accurate and workable legislation. He is also a member of the Commonwealth Association of Legislative Counsel.
How much?
R5,830 per person.
Certificate
A certificate of attendance from UCT will be issued to those who attend the full six sessions of the course.
How to sign up
Complete and submit the registration form. You will then be given the payment information. Please note that registrations will not be accepted until payment has been made.
One or two days before the course, we will send you the Zoom link.
Registrations close three days before the course starts.
Download the brochure.
You may also be interested in: