Professor Caroline Ncube
LLB University of Zimbabwe
LLM Cambridge University 
PhD University of Cape Town
Bio
Professor Caroline Ncube is the DSI/NRF SARChI Research Chair in Intellectual Property, Innovation and Development in the Department of Commercial Law at the University of Cape Town (UCT). She is also affiliated with the Intellectual Property Unit . Prof Ncube served as Head of the Department of Commercial Law from 2014 – 2016; as Deputy Dean, Postgraduate Studies in 2017 and in January - June 2019; and again as interim HoD for Commercial Law in 2022.
She holds a PhD in IP Law from the University of Cape Town, an LLM  from the University of Cambridge  and an LLB from the University of Zimbabwe. Before joining  UCT in 2005, Prof Ncube lectured at the University of Limpopo (formerly University of the North) and the University of Zimbabwe. Prior to that, she practiced briefly as an attorney at Coghlan, Welsh & Guest. For more about her academic career read this snapshot. 
She currently teaches Intellectual Property (IP) Law at postgraduate level and supervises master's and PhD candidates, primarily in IP law, but also in other areas of commercial law. She is an NRF-rated researcher. She has served as an expert for WIPO, ECA, SADC and is a member of the African Policy, Research & Advisory Group on STI. Most recently Prof Ncube has been appointed, as one of only two in South Africa, to be a member of the African Continental Free Trade Area (AfCFTA) Trade and Industrial Development Advisory Council.
Prof Ncube is a co-editor of the South African IP Law Journal  and serves on the editorial boards of several journals including the Journal of World IP. She is a co-leader of the Open African Innovation Research partnership and participates in several other research projects. that focus on open development, access to knowledge and the promotion of a balanced approach to IP Law.
Beyond teaching at UCT, she also presents a module on SMEs, Innovation and IP on the Masters Degree in Intellectual Property (MIP) jointly offered by the World Intellectual Property Organization (WIPO), the African Regional Intellectual Property Organization (ARIPO) and Africa University (AU).
She is a member of various academic associations such as the International Association for the Advancement of Teaching and Research in Intellectual Property (ATRIP), the South African Association of Intellectual Property Law and Information Technology Law Teachers and Researchers (AIPLITL) and the Society of Law Teachers of Southern Africa (SLTSA). She is affiliated with the University of Ottawa as an Associate Member, Centre for Law, Technology and Society.
 
Research Focus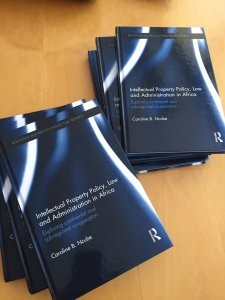 Prof Ncube works primarily in the area of IP law and has a special interest in how IP law and policy can be best calibrated to achieve national socio-economic goals in African states. These considerations centre on the promotion of innovation in prevalent African contexts, such as the informal sector. Her publications to date have considered copyright and patent laws specifically in the light of access imperatives grounded in the constitutional protection of fundamental and socio-economic rights. For instance, she has recently worked on how copyright  impacts publication in neglected languages for under-served markets and access to works by persons with cognitive, aural, physical and other disabilities. Her other key focus area is the protection of indigenous knowledge, on which she has authored book chapters and co-edited a volume, Indigenous Knowledge & Intellectual Property. African regional integration efforts are also a critical element of her study of how IP law and policy are developing in Africa. This has been the subject of her book entitled Intellectual Property Policy, Law and Administration in Africa: Exploring Continental and Sub-regional Co-operation.
Prof Ncube's full list of publications can be reviewed at this link.