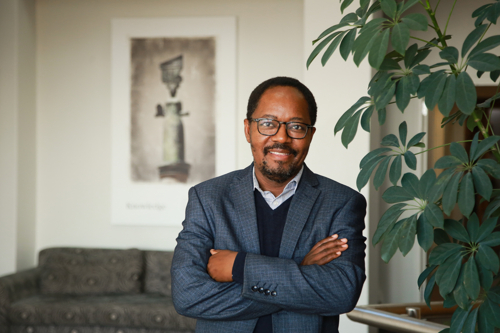 The Dean's Team comprises the Dean of Law, Professor Chirwa; Deputy Dean: Undergraduate Studies, Associate Professor Kathy Idensohn; and Deputy Dean: Postgraduate Studies, Professor Johann Hattingh. In addition, the team includes the Faculty Manager, Nondwe de Caires, and the Faculty Office staff; the Faculty Finance team, led by Mr Zorodzai Matima; the Faculty's Development & Marketing Manager, Gabrielle Ritchie; and the Dean's PA, Ms Faiza Mohamed.
The Dean of Law and his team, together with the Faculty Management Committee, the Faculty Office, the Dean's Advisory Committee and the Faculty Board (and its subcommittees), manage the academic, research and administrative business of the Faculty while maintaining UCT Law School's position as the best on the continent. 
The Faculty is committed to ensuring that we undertake engaged scholarship and research, deliver top quality legal education so that our graduates are appropriately skilled, and that we are able contribute to the development and practice of Law into the future.
"As we think about new and innovative ways of teaching, the Law Faculty recognises the significance of the links between law and technology - at the level of both research and teaching. We plan, in the next few years, to establish: a combined degree programme that will draw LLB students from information systems, mathematics or computer science; postgraduate programmes in law and technology; and a core skills course in law and technology for LLB students."
- Professor Danwood Chirwa, Dean, UCT Law
Dean's PA | Faiza Mohamed
+27 21 650 2706
Postal address
University of Cape Town Faculty of Law
Private Bag X3
Rondebosch 7701
South Africa
Physical address
University of Cape Town Middle Campus
Wilfred & Jules Kramer Law Building, Level Four,
1 Stanley Road (or access via Cross Campus Road, off Woolsack Drive)
Rondebosch 7700
South Africa