Annual interdisciplinary tax event at UCT
The UCT Tax Institute for Fiscal Research is a collaborative endeavour based jointly in the Faculties of Law and Commerce. Together these Faculties teach a Masters programme in Tax. Since 2014, these Faculties have had an academic cooperation agreement in place with the International Bureau of Fiscal Documentation (IBFD), a non-profit organisation headquartered in the Netherlands, whose sole mission is to disseminate knowledge about international taxation.
As part of the cooperation agreement, an intensive week of lectures is presented by senior IBFD staff and UCT academics to students on the UCT tax masters courses (MCom and LLM). This week of intensive, specialised tax teaching culminates with the annual UCT-IBFD public tax seminar, which took place on 16 February 2023 in Cape Town. The topic for the seminar dealt with the implementation in South Africa of the Multilateral Instrument (MLI) to address Base Erosion and Profit Shifting, from both a global and local perspective. Every year this public seminar is very well-attended, and this year was no different. The event included 80 participants, many of whom were UCT tax law alumni.
A highlight of this year's public seminar was the launch of a new book by UCT's Assoc Professor Shaun Parsons from the College of Accounting, titled Taxing Crypto-Asset Transactions: Foundations for a Globally Coordinated Approach. The book is published by IBFD's doctoral series.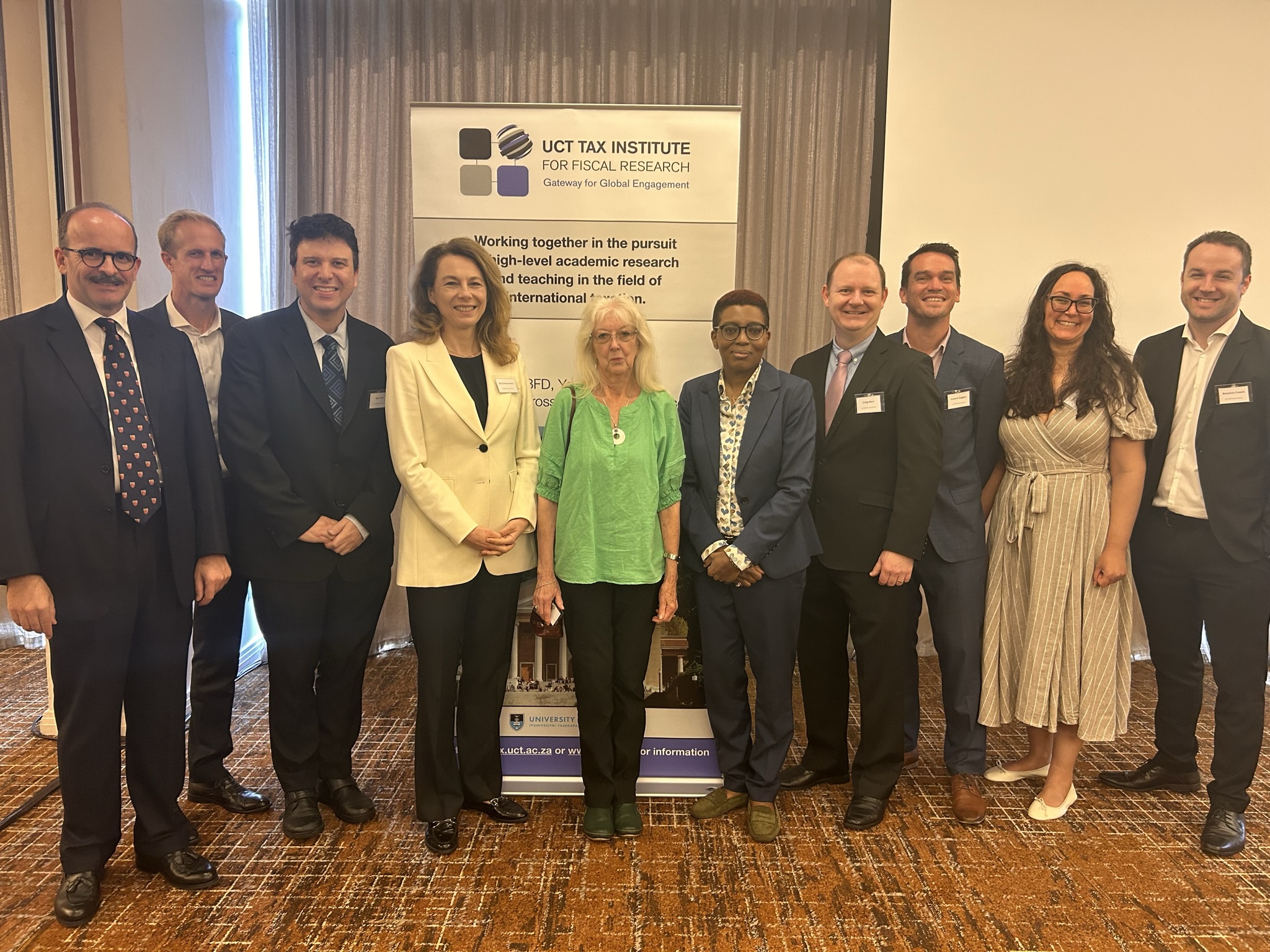 The full group of UCT Law and Commerce lecturers, as well as visiting IBFD colleagues - pictured above.
From left to right:
Dr Johann Hattingh (Professor, Department of Commercial Law)
Dr Shaun Parsons (Assoc Professor, College of Accounting)
Barry Ger (Lecturer, Department of Finance & Tax)
Ola Ostaszewska (Deputy Director, IBFD Knowledge Centre)
Jennifer Roeleveld (Emeritus Professor, Department of Finance & Tax)
Belema Obuoforibo (Director, IBFD Knowledge Centre)
Dr Craig West (Managing Editor, IBFD Doctoral Series & World Tax Journal; Adjunct Professor, Department of Finance & Tax)
Graeme Saggers (Lecturer, Department of Finance & Tax)
Dr Alison Futter (Senior Lecturer, Department of Finance & Tax)
Ben Cronin (Lecturer, Department of Commercial Law)