IP Chair 3rd Quarter Update 2023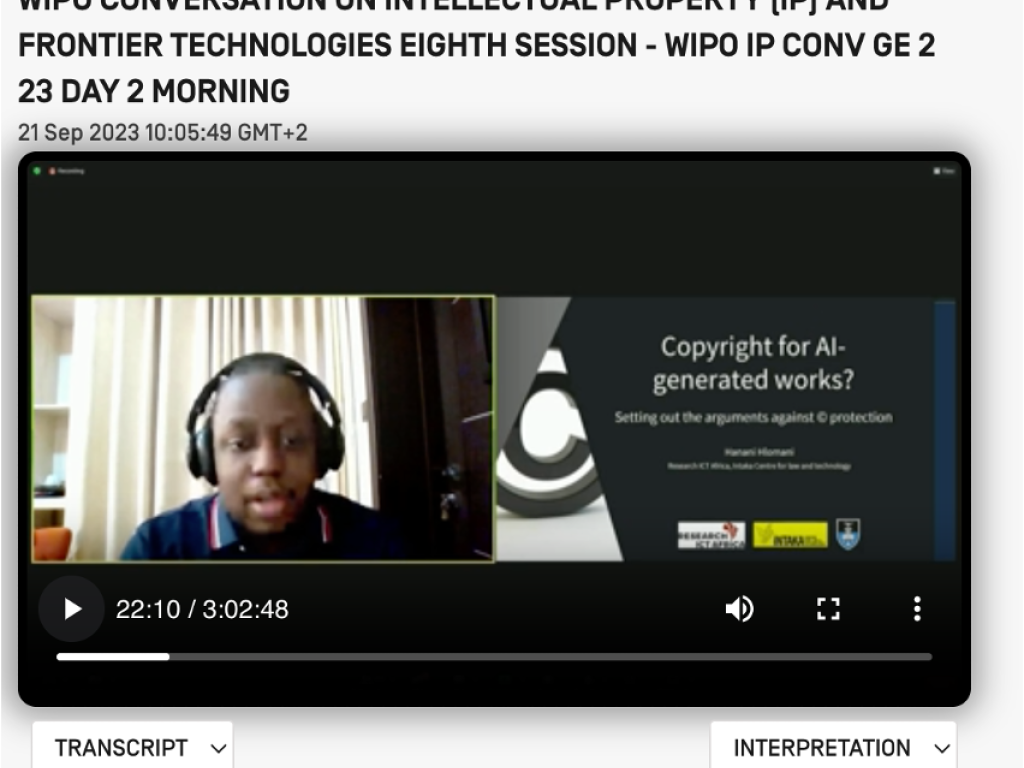 Greetings from the IP Chair! As we dive into the final stretch of 2023, it's time to reflect on our achievements and endeavours during the third quarter. Over the past few months, our dedicated members have been actively engaged in various academic pursuits, attending conferences, advancing research initiatives, and releasing noteworthy publications. This update report provides a comprehensive overview of our activities during this period. 
CONFERENCES 
Members of the IP Chair team actively participated in several prominent events, conferences, and webinars, enhancing our presence on the global stage. July began on a high note with the Chair, attending the 41st International Association for the Advancement of Teaching and Research in Intellectual Property (ATRIP) Congress from the 9th to the 12th of July at the University of Tokyo. The theme this year was on The Interface of Intellectual Property Law with Other Legal Disciplines. On the 11th she moderated a panel comprised of various academics from Australia, India, and the USA. The session 8 panel was focused on IP, Ethics, Human Rights and Anti-Discrimination – a fantastic session which reflected on the role of Law and IP in regaining humanity in a time of crisis. On the 21st of September at the 8th Session of WIPO's Conversation on Intellectual Property and Frontier Technologies, Hanani Hlomani shared his insights on the cutting-edge topic: whether Copyright should be protected for AI-generated works. In this thrilling presentation, Hanani set out the arguments against protecting these works – highlighting the fact that the core principle of copyright is to reward human creativity and extending protection to AI-generated works undermines that principle. Furthermore, he drew attention to the issues we currently face regarding copyright in the global south, particularly in the Southern African region that are currently impacting the creativity that most of our economies are centred on. He concluded by recommending a path forward imploring us to engage in dialogue on the topic. You can watch this exciting and informative presentation here.  
RESEARCH 
During our third quarter, the team continued to push the boundaries of knowledge through a range of ambitious research initiatives. Notably, following various presidential elections in the region, this blog on Future-Proofing African Democracy: Assessing Electoral Laws Amidst AI Advancements by Hanani Hlomani at Research ICT shows how the relationship between law and technology resembles a constant chase, akin to the cartoon characters Tom and Jerry, with the law trying to keep up with rapid technological advancements. This struggle has serious implications for contemporary democracy. The need for clear legal frameworks for AI in Africa is particularly important. Following this theme, a presentation was made to the parliamentary committee webinar on misinformation ahead of South Africa's 2024 elections that makes for stimulating reading. The collaboration between our researchers and partners from academia and industry remains a cornerstone of our success, facilitating the integration of diverse perspectives and resources to tackle complex challenges. As we move forward the IP Chair remains committed to fostering an environment that nurtures creativity, critical thinking, and the pursuit of ground-breaking research.  
PUBLICATIONS 
In line with our commitment to disseminating knowledge, the third quarter of 2023 saw our team releasing a series of noteworthy publications. Our researchers published a wide array of pieces covering multiple topics from Copyright to Artificial Intelligence relevant to our ever-changing world. This included an editorial in GRUR International Journal of European and International IP Law by the Chair, Professor Caroline Ncube.  
Hlomani, H. 2023. AU Regional Economic Community capacity building on Data Policy Framework. Available: https://researchictafrica.net/2023/07/31/au-regional-economic-community-capacity-building-on-data-policy-framework/. 
Ncube, CB 'Moving from Mirages to Miracles: Intellectual Property, Human Rights and the Global Partnership for Sustainable Development ' 2023 (72) 7 GRUR International, 629–630, https://doi.org/10.1093/grurint/ikad051.  
Hlomani, H., and Ncube, C.B. (2023). Data Regulation in Africa: Free Flow of Data, Open Data Regimes and Cybersecurity. In: Ndemo, B., Ndung'u, N., Odhiambo, S., Shimeles, A. (eds) Data Governance and Policy in Africa. Information Technology and Global Governance. Palgrave Macmillan, Cham. https://doi.org/10.1007/978-3-031-24498-8_5.  
Gotora, N. 2023. Empowering African economies: The case for disability exceptions in Copyright Law. Available: https://law.uct.ac.za/ip-chair/articles/2023-09-09-empowering-african-economies-case-disability-exceptions-copyright-law.  
As we approach the final quarter of 2023, we remain committed to our mission and look forward to the exciting work that lies ahead. Thank you for reading!